The term "plywood" is defined as a panel manufactured of three or more layers (plies) of wood or wood products (veneers or overlays and/or core materials), generally laminated into a single sheet (panel). Plywood is separated into two groups according to materials and manufacturing:
Hardwood plywood - manufactured of hardwood or decorative softwood veneers over a core material, such as medium density particleboard, medium density fiberboard, low density lumber, and/or other veneers.
Softwood plywood - Panels manufactured with softwood face veneers are described in standards published by the APA–The Engineered Wood Association. Softwood plywood is seldom incorporated into finished architectural woodworking project, except to achieve specific design æsthetics. Softwood (construction) plywood is not recommended for use as a core material due to poor stability and core voids.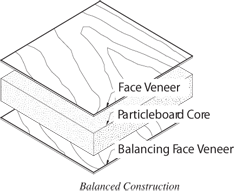 Panel Construction Balance
To achieve balanced construction, panels must be an odd number of layers (plies) symmetrical from the center line, i.e., all inner plies, except the innermost ply, should occur in pairs, using materials and adhesives on both sides that contract and expand, or are moisture permeable, at the same rate. A ply may consist of a single veneer, particleboard, medium density fiberboard, or hardboard. Each pair of inner plies should be of the same thickness and direction of grain. Each ply of each pair is placed on opposite sides of the innermost ply or layer, alternating grain directions from the center out. (Particleboard and MDF do not have a specific grain orientation.)
General Rules: The thinner the facing material, the less force it can generate to cause warping. The thicker the substrate, the more it can resist a warping movement or force.