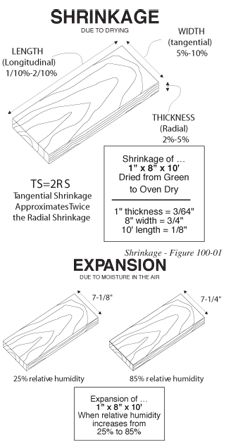 Availability
The supply of lumber is in constant flux throughout the world. It is affected by many factors such as current demand, export regulations of the country of origin, natural forces of weather,fire, disease, political situations, etc. Consult an AWI/AWMAC woodworker before specifying uncommon species, as wellas large quantities of a species, thickness, width, or long.
Size Limitations
Certain trees (species) naturally grow larger, thus producing longer and wider lumber. Other trees are smaller and produce narrow and shorter boards. The architectural woodworker must work with the available lumber, which must be considered when selecting any species.
Cost
The cost of lumber, as with other commodities, is influenced by supply and demand, both of which are constantly changing. For current comparative costs consult an AWI/AWMAC woodworker.
Strength, Hardness, Density
Always a consideration is the ability of the selected lumber species to sustain stress; resist indentation, abuse, and wear; and to carry its anticipated load in applications such as shelving and structural members. The Wood Handbook, published by the U.S. Forest Products Society contains comprehensive data on the mechanical properties of wood.
Dimensional Stability, Relative Humidity, and Moisture Content
All woods are affected significantly by moisture and to a lesser degree by heat. Lumber swells and shrinks primarily in two directions: thickness and width. There is insignificant change in length. The changes in dimension due to moisture vary with different species, thus influencing the selection of lumber to use and the design elements.
Prevention of dimensional problems in architectural woodwork products as a result of uncontrolled relative humidity is possible. Wood products perform, as they have for centuries, with complete satisfaction when correctly designed and used. Problems directly or indirectly attributed to dimensional change of the wood are usually, in fact, the result of faulty design or improper humidity conditions during site storage, installation, or use.
Wood is anisotropic in its shrinkage characteristics. It shrinks most in the direction of the annual rings when it loses moisture from the cell walls. This illustration from the USDA Wood Handbook shows the typical distortion of cuts from various parts of a log.
Moisture can also cause iron stain (oxidation) in wood, also referred to as blue/black stain. Iron stain is a natural reaction of acids with iron, oxygen, and moisture (either high relative humidity or direct moisture) in wood. Control of moisture is a simple way to protect wood products from iron stain.