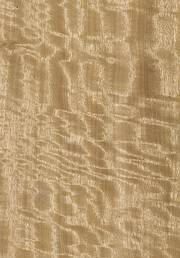 Movingui, figured
Origin:
The evergreen wet forests of West Africa (from the Guinea coast, Sierra Leone, Gabon, Ghana, Togo, Southern Nigeria, Cameroon and Gabon eastward into the Congo Basin)
Color:
Pretty lemon-yellow heartwood, which turns to ochre yellow when exposed to air, but also darkens to a greenish tinge.
Characteristics:
Very decorative, wavy, so-called figured pattern.
Application:
Wainscoting, parquet, as veneer also for furniture and interior finishing.